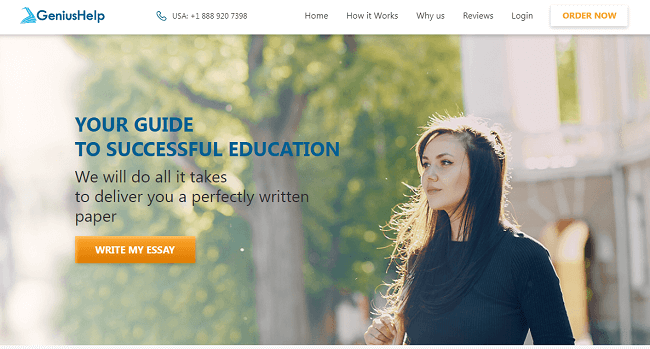 Service features
| | |
| --- | --- |
| Min Price | $10 |
| Max Discount | N/A |
| Min Deadline | 24 hours |
| Free revisions | yes |
| Refund guaranteed | yes |
What Is Geniushelp.pro?
GeniusHelp is one of the multiple clones of ubiquitous essay mills run by DDW Corp Limited. On the plus side, the company doesn't hide its Cyprus registration. But on the down side, its promises are deceptive, and its guarantees are worthless. As you'll learn from my Geniushelp.pro review, it's not worth your time or money.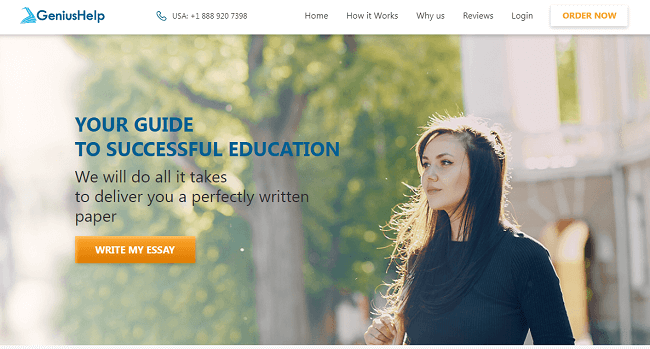 Pros
Rates as low as $10 per page;
Realistic deadlines.
Cons
No real Geniushelp.pro reviews anywhere;
Atrocious research and writing skills;
Unhelpful support team.
Geniushelp.pro Website & App Usability
There's no app, and the website looks like it took no more than a couple of hours to put together. It's basically a single page with a dated design and sloppy copy with the same order form and dashboard all DDW Corp's essay mills rely on. So while the order form and navigation were alright, the company didn't put much effort into the homepage.
List of Services Provided
Aside from traditional academic writing services that range from admission essays to thesis, GeniusHelp offers assistance with:
Editing
Formatting
Paraphrasing
Proofreading
Multiple-choice questions
Problem-solving
Presentations and speeches
Online class summaries
STEM assignments and more
My Experience Using Geniushelp.pro
I wrote this review for Geniushelp.pro after receiving a 5-page mess of an essay on job automation prospects within a decade. After a quick glance at the first passages, I realized the writer didn't bother seeking academic research and went with newspaper and magazine articles, despite my instructions. Besides, some pieces were outdated, while others didn't mesh to form a cohesive understanding of the issue. And let's not forget the writer made some weird word choices, which made me realize they were not a native English speaker.
Geniushelp.pro Writers
The service is careful enough to never promise ENL writers. Even the advanced and premium writers are only marketed as coming from English-speaking countries. There's also a preferred writer option, which I couldn't use for obvious reasons, though it's still a nice touch if GeniusHelp actually has any regular clients.
Plagiarism Review
The writer copypasted a chunk of my essay without even trying to paraphrase it or cite the source. So the similarity percentage almost reached 20%, though the other bits were fine. As I didn't find any other reviews of Geniushelp.pro with plagiarism issues, I believe it could be an unfortunate one-off.
Features Review
I could choose among three add-ons: plagiarism report ($9.99), abstract page ($14.99), and high-priority status ($14.99). And looking back, I wish I'd opted for a plagiarism report, though it could have been doctored. In the end, the order total was already too high for me to experiment with extras.
Pricing and Deadlines
I only accessed Geniushelp.pro prices on the second step of the order form. It took some patience to get how the pricing worked. For example, while rates start at $10, that's only for high schoolers and 14-day deadlines. And when I chose the shortest deadline of 24 hours, the price doubled to $21 per page.
As I ordered a college-level paper and only had 3 days to spare, I had to pay $19 per page, so the bottom line was nearly $100 for a 5-page essay.
Promo Codes & Discounts
Although there's a field for promo codes in the order form, I didn't get a discount as a new customer. And even if the service runs occasional promotions, I won't be sticking around that long.
Geniushelp.pro Login & Paper Ordering Procedure
If you're new to Genius Help, like me, you can order the paper and create an account simultaneously. It goes like this:
Press the "Order now" button at the top of the homepage.
Share paper details, requirements, and instructions.
Estimate the price by setting the deadline and choosing the writer category.
Pick additional services and input the promo code
Review the order to ensure you haven't missed anything.
Provide name, email, phone number, country, and password to create an account.
Complete the order by covering the rate.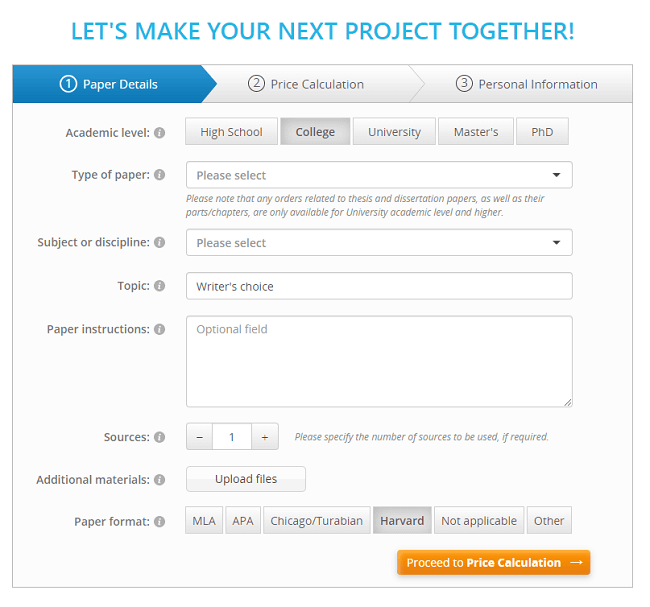 Payment Options
Credit card is the only payment option. You cannot use PayPal, cryptocurrency, or wire transfer.
Guarantees
Although full refunds are virtually impossible, partial refunds seemed pretty straightforward and achievable. For example, I expected to get at least 30% of my money back by demonstrating the writer's mistakes. Unfortunately, I haven't received my refund yet, and I don't have high hopes anymore.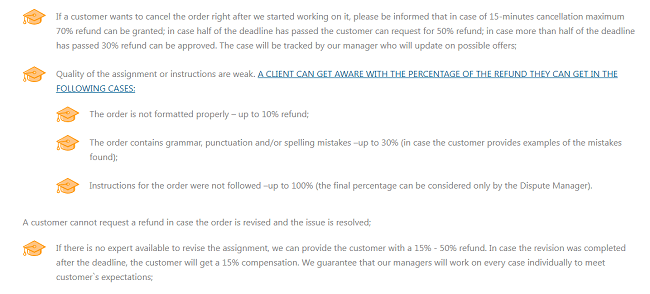 Online Reputation
Neither Trustpilot nor SiteJabber had any reviews. For a company that's been around for a few years, that's more than a little suspicious. And the only Geniushelp.pro Reddit posts I could find were spam comments that recommended the service to OPs who asked questions about other writing companies, which screamed fake to me.

Social Media
With zero followers, likes, and reviews, the Geniushelp.pro rating on Facebook is pretty much non-existent. Although the account was abandoned in 2018, I found a few comments by an angry commenter who criticized the research quality. Besides, the company is a no-show on Twitter, Instagram, and Youtube.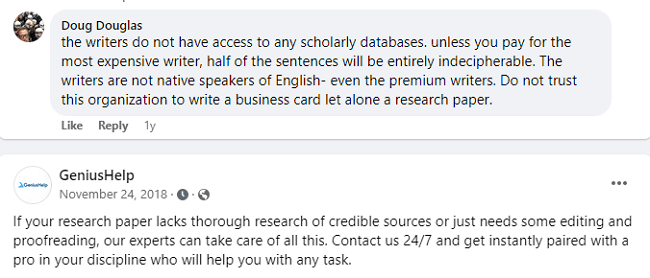 Customer Support
The only way to reach a support manager without logging into a customer account is via a phone call. There isn't even an email. Sadly, I couldn't get a hold of anyone most of the time. And when I tried to secure a refund, the agents kept forwarding my messages to other departments, making the wait too long to bear.
Conclusion
I wasted nearly $100 to prove to myself that GeniusHelp is just as bad as most of DDW Corp's essay mills. So save yourself the trouble and find a better writing service to avoid repeating my mistakes.
FAQ
| | |
| --- | --- |
| Is It Cheap? | No. Even if prices start at $10, short deadlines can double and triple the rate. |
| Is It Fraud? | No. You'll likely get something in return for your money. |
| Is Geniushelp.pro Cheating? | No. As long as you do not submit the paper for grading under your name, it's not cheating. |
| Is It Legal? | Yes. However, you should always research local legislation and school rules before using writing services. |
| Is Geniushelp.pro Confidential? | Yes. The company relies on a boilerplate privacy policy and is unlikely to disclose your personal info. |
| Is Geniushelp.pro Safe? | No. While the money-back policy is pretty detailed, it doesn't work as intended. |
| Is It Trustworthy? | No. The service failed to deliver high-quality and original work to me despite its promises. |
| Is Geniushelp.pro a Scam? | No, but it's overpriced and overrated. |
| Is Geniushelp.pro Legit? | Yes. It's part of an essay mill network run by a Cyprus-based DDW Corp Limited. |