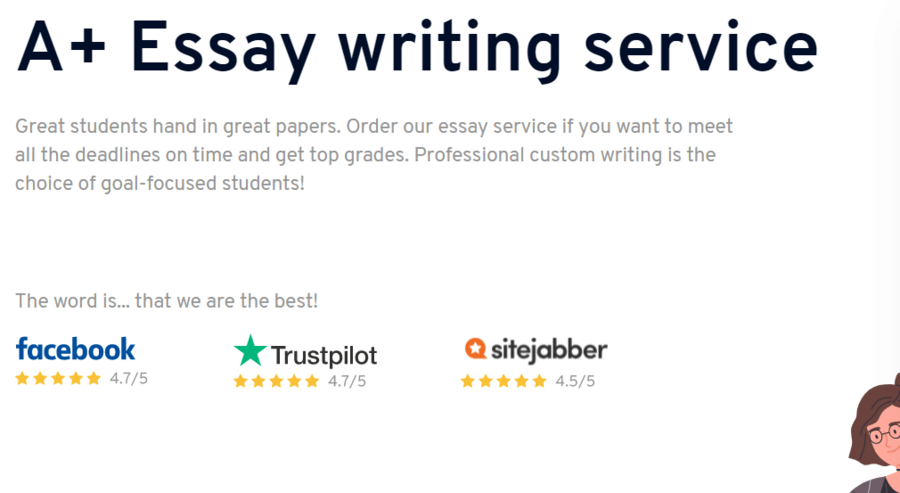 Service features
| | |
| --- | --- |
| Owner | Writeperfect Ltd |
| Years in operation | 15 |
| Price from | $13.50 |
| Shortest deadline | 1 hour |
| Refund Policy | Yes |
| Revision Policy | Yes |
WHAT IS PRIVATE WRITING?
Private Writing is a writing service for English-speaking students created back in 2004 and is owned by Writeperfect Ltd. The company is registered in Cyprus and is subject to local laws. This is a very important aspect since it will be difficult for foreigners to defend their rights in court. The website design is pretty cute, and the horizontal menu is nicely structured. But what is hidden behind the beautiful pages of the site, and can you trust this writing service? Let's start this Private Writing review, and I'll walk you through everything in order.
Pros
Useful online chat;
User-friendly website.
Cons
Light plagiarism;
Writers don't adhere to requirements;
Blurred money-back guarantees;
High prices for additional services.
MY EXPERIENCE USING PRIVATE WRITING
To check the quality of the services, I decided to order a 3-page college argumentative essay on Anthropology. I also chose the 7-day deadline and "Why were the Australopithecines one of the most intellectually advanced hominids?" topic. One of the main requirements for the writer was the disclosure of the topic. Therefore, I asked that my paper contain arguments related to the shape of the skull of the Australopithecus, their habits, and the way of life, which served as an impetus for evolutionary development.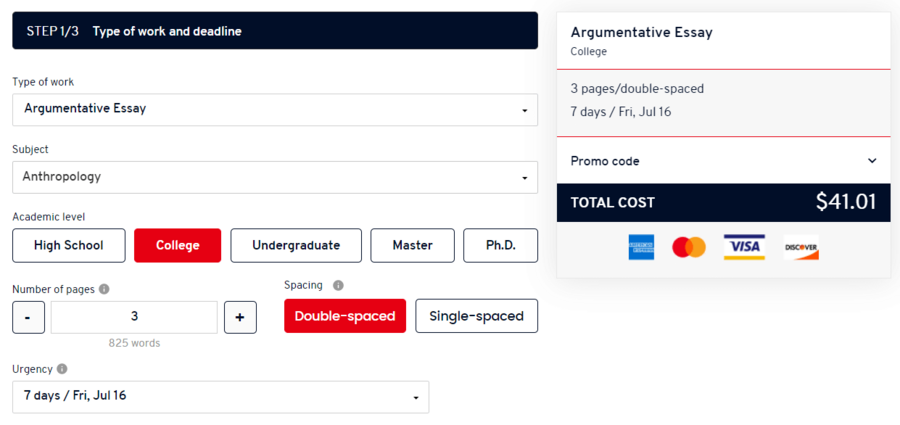 It is worth noting that I had to pay $41.01 for my paper. However, the writer did not exceed the deadline, and I received my paper on time. Unfortunately, this was the only positive point. Firstly, I did not find the data that I asked for. Secondly, the writer did not mention the skull structure features, brain development, and other factors, although I sent a detailed list with requirements.
Another disadvantage is light plagiarism. I don't know why, but the writer copied a few sentences from the Wikipedia article. This is wrong, and besides, Wikipedia is not a reliable source for citing. As a result, the writer spent two extra days correcting all the inaccuracies. Now I understand why so many Private Writing reviews are negative.
PRICING AND DEADLINES
If I had not seen the quality of the assignments, the local prices would have seemed quite affordable to me. If you are willing to wait about 30 days, you will have to pay only $13.50 per page. But if you are interested in the 1-hour deadline, the price will rise to $43.60 for 275 words. It's worth noting that you have to pay an additional $8.20 if you want to use the services of a premium writer. So, is Private Writing legit? Let's find this out.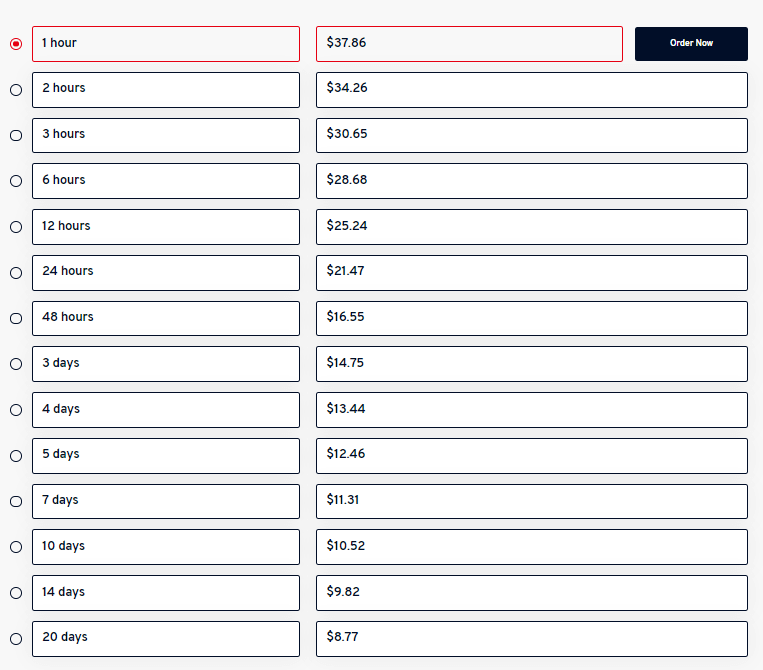 GUARANTEES
The company claims that it guarantees free revisions and is ready to return the money if its quality does not meet the stated standards. But the problem is that all these legal aspects are practically not described in any way. Instead, the company sets the number of revisions and the time frame for improving your paper. If you are not satisfied with the quality of your assignment, then you will have to wait for the QA team's verdict. I was denied a refund because they considered my paper not "bad" enough for this.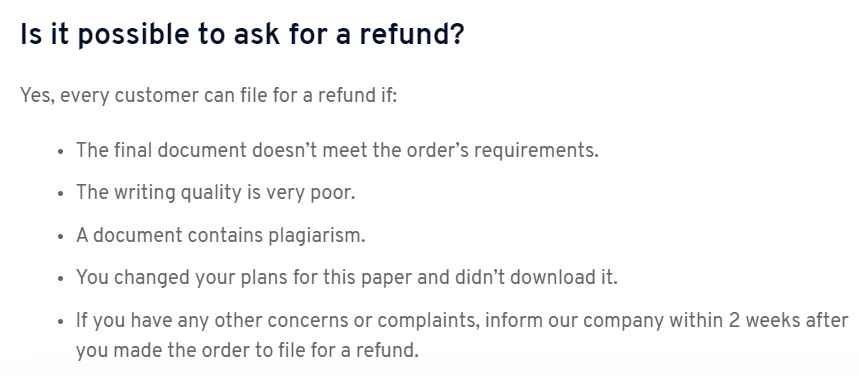 ONLINE REPUTATION
The next aspect I decided to check out was PrivateWriting.com reviews. The company has a controversial reputation. However, the number of positive and negative reviews is about the same, so this should be a worrying moment for you. The main complaints concern poor grammar and spelling. Also, people do not like the fact that writers can ignore certain requirements or exceed deadlines.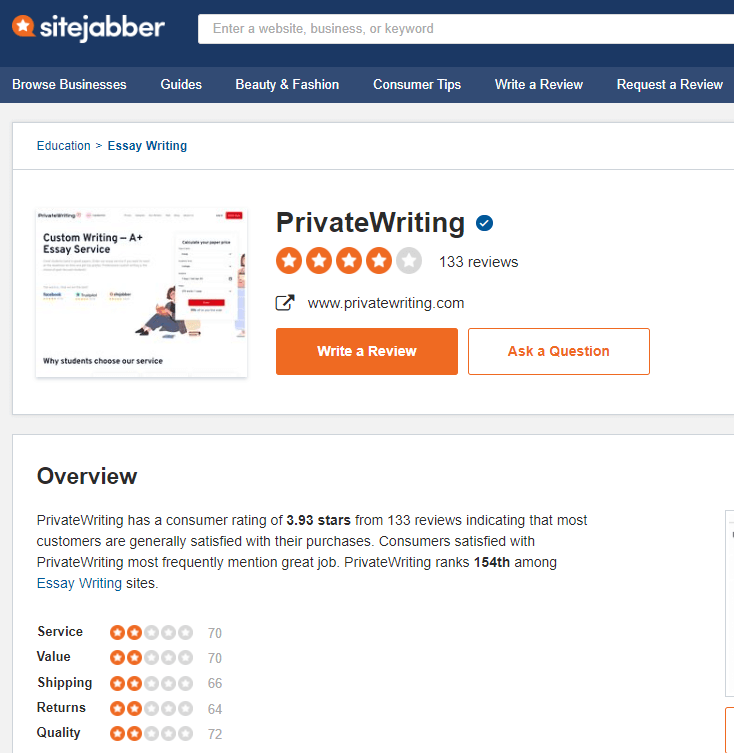 CUSTOMER SUPPORT
You can contact the company by the phone or via online chat. The second option is preferable because the line is often busy. The managers are friendly and quick to answer questions, although I didn't ask any difficult questions. However, you should understand that the company aims to maximize profits, so you should not agree to additional services if managers persuade you to pay for VIP writers or other options.
CONCLUSION
I cannot say that I would use this site for ordering papers a second time. The point is that local writers ignore many requirements, so you have to wait twice as long if you want the company to improve your paper. Plus, plagiarism is something you might encounter here. I believe that writing services should not copy other people's papers or use open sources like Wikipedia. Given that my paper still does not meet my requirements, I cannot recommend this website. You should find a more reliable writing service that meets all modern requirements.
FAQ
| | |
| --- | --- |
| Is Private Writing legit? | Yes, this is a legit site that is registered in Cyprus. But this means that American students will not be able to defend their rights in court due to different jurisdictions. So you'd better find a local company and not risk it. |
| Is Private Writing reliable? | It is an unreliable service because the writers plagiarize papers and ignore direct customer requests. I think this is unacceptable and you should find an alternative. Then you can avoid poor quality services. |
| Is Private Writing safe? | There is no single factor confirming the safety of this website. This company does not guarantee the safety and anonymity of your data. Think twice before you decide to order anything from here. |
| Does Private Writing work? | This website is not working properly. Writers don't stick to requirements, which means you can't count on meeting deadlines and original agreements. |